Proudly Serving
Kitsap, Mason, & Pierce Counties, Including Gig Harbor, Port Orchard, Poulsbo, Silverdale, & Tacoma

Memberships
• Washington State Ground Water Association
• Member of National Ground Water Association

Call 253-851-7867 for a FREE Estimate.

Protect your home from potential water well issues with well rehabilitation and drilling services from Harbor Pump Company, serving the Gig Harbor, Port Orchard, Tacoma and Key Peninsula, Washington, areas. We are a full-service domestic water company providing excellent customer service and quality work for all preventative maintenance and pump repair project. Since 1983, owner Evan Reames has been serving the water and well drilling needs of Western Washington and continues to provide exceptional experience, competitive rates, and superior customer care. Contact us today for an estimate on your water well and pump needs.

Harbor Pump Specializes In:

Well Drilling | Video Inspections | Complete Water Systems | Well Rehabilitation Water Treatments | Reservoir Usage | Flow Tests | Water Testing & Sampling

Call Us BEFORE You Buy!
We Specialize in Pump Systems & Water Treatments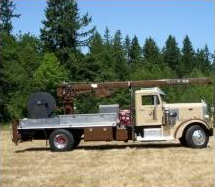 Schedule Your Appointment
If your well yield has declined over time, then you need Harbor Pump. Our trained well rehabilitation and drilling technicians come out and examine your system and then make any recommendations that are needed. If items can be changed during the visit, this can be done at that time with permission. All replacement parts are left on site unless other arrangements are made.

View Our FAQ Page for Additional Information

Let us put our experience in well drilling to work for your property by calling us today.

Certifications

Licensed & Bonded • Water Distribution Manager 3

Cross Control Specialist

Licensed Specialty Pump & Irrigation Electricians/Specialty Plumbing

Contractors Turnkey Services • Washington State Well Drilling



Call 253-851-7867 today for a FREE phone consultation.